Hasa
Gold User
---
Seguir Usuario
---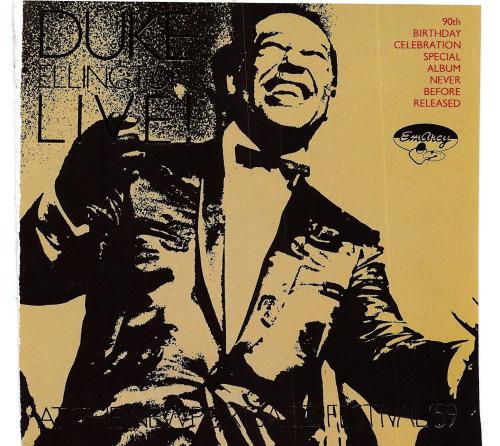 Duke Ellington - Live! At the Newport Jazz Festival ´59 (1989)
Jazz
Quality: mp3
Bitrate: 320 kbps
Total Time: 65:49
Total Size: 151 Mb
01. Take The "A" Train
02. Idiom'59
03. Rockin'In Rhythm
04. Flirtibird
05. Perdido
06. Cop-Out
07. V.I.P.'S Boogie
08. Jam With Sam
09. Skin Deep
10. Things Ain`T What They Used To Be
11. Jones
Recorded live at the Newport Jazz Festival, Newport, Rhode Island on July 4, 1959.
Personnel:
Duke Ellington and His Orchestra:
Duke Ellington, piano;
Russell Procope, alto saxophone, clarinet, whistle;
Johnny Hodges, alto saxophone;
Jimmy Hamilton, tenor saxophone, clarinet;
Paul Gonsalves, tenor saxophone;
Harry Carney, baritone saxophone;
Ray Nance, Cat Anderson, Clark Terry, Harold Baker, Fats Ford, trumpet;
Britt Woodman, Quentin Jackson, trombone;
Jimmy Woode, bass;
Sam Woodyard, Jimmy Johnson, drums
This is a recording of a performance that Duke Ellington and his Orchestra gave at the Newport Jazz Festival on July 4, 1959.
The CD was released in 1989 to honor Ellington's 90th birthday. The beginning portions of disc suffer from poor sound quality due to degradation of the original master tapes, but the recording as a whole is invigorating.
The songs feature several hits, including the first performance of "Idiom 59," a song that Ellington introduces as one composed especially for the concert. As the bluesy suite progresses, the band (which features several especially talented players, including Johnny Hodges and Clark Terry) seems to really be having fun with the new material and the Duke himself throws in some very tasty, funky piano licks.
The masterful bassist Jimmy Woode and dual drummers Jimmy Johnson and Sam Woodyard drive the proceedings with an unerringly ferocious sense of jump-swing. This is a record that celebrates the legacy of Duke Ellington.
http://uploaded.net/file/p85lntw8/Sfrd17345du.rar
http://cloudzer.net/file/ch6yoi3r/Sfrd17345du.rar
Otros posts que te van a interesar:
Cargando comentarios espera un momento...
No tienes permisos para comentar.