Hasa
Great User
---
Seguir Usuario
---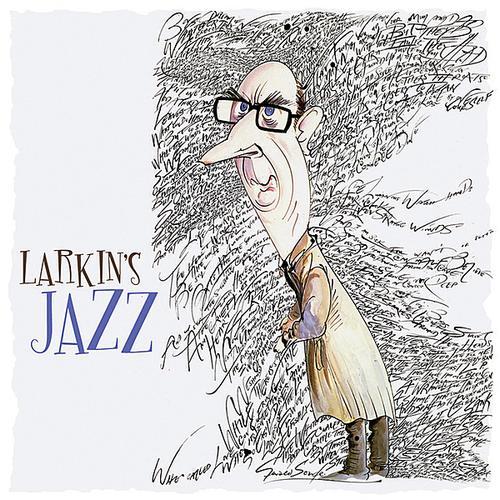 Sfrd17897la
Larkin's Jazz [4CDs Box Set] (2010)
Jazz
Total Time: 5:01:05
Format: Mp3 / FLAC (tracks +.cue, log-file)
Quality: CBR 320 kbps / Lossless
Total Size: 716 mb / 776 mb
CD1 - I Remember, I Remember
01. Ray Noble and his Orchestra - Tiger Rag
02. The Washboard Rhythm Kings - I'm Gonna Play Down By The Ohio
03. Louis Armstrong and his Orchestra - Ain't Misbehavin'
04. Jimmie Noone and his New Orleans Band - The Blues Jumped A Rabbit
05. Louis Armstrong and his Orchestra - Knockin' A Jug
06. Louis Armstrong and his Hot Five - Squeeze Me
07. The Chicago Rhythm Kings - I've Found A New Baby
08. McKenzie and Condon's Chicagoans - Nobody's Sweetheart
09/10. Artie Shaw and his New Music - The Blues Parts I & II
11. Bob Crosby's Bobcats - Spain
12. The Teddy Wilson Quartet – Just A Mood (Blue Mood)
13. Lionel Hampton and his Orchestra - On The Sunny Side Of The Street
14. Coleman Hawkins and his Orchestra - Body And Soul
15. Count Basie and his Orchestra - One O'Clock Jump
16. Count Basie and his Orchestra - Sent For You Yesterday
17. Count Basie and his Orchestra - Every Tub
18. Count Basie and his Orchestra - Swingin' The Blues
19. Count Basie and his Orchestra - Jumpin' At The Woodside
20. Jones-Smith Incorporated (Count Basie) - Shoe-Shine Boy
21. Bessie Smith - Backwater Blues
22. Bessie Smith - Reckless Blues
23. Bessie Smith with Buck and his Band - I'm Down In The Dumps
CD 2 - Oxford
01. Bix Beiderbecke and His Gang - Since My Best Gal Turned Me Down
02. Frankie Trumbauer and His Orchestra - Way Down Yonder In New Orleans
03. The Mound City Blueblowers - One Hour
04. The Louisiana Rhythm Kings - Basin Street Blues
05. Billy Banks and his Orchestra - Bugle Call Rag
06. Billy Banks and his Orchestra - Oh Peter
07. Billy Banks and his Orchestra - Spider Crawl
08. The Rhythmakers - I Would Do Anything For You
09. The Rhythmakers - Yellow Dog Blues
10. Eddie Condon and his Orchestra - The Eel
11. Eddie Condon and his Orchestra - Home Cooking
12. Louis Prima and his New Orleans Gang - Chasing Shadows
13. Eddie Condon and His Band - I Ain't Gonna Give You None Of My Jelly Roll
14. Eddie Condon and His Windy City Seven - Carnegie Drag
15. Pee Wee Russell's Hot Four - D.A. Blues
16. Art Hodes' Hot Five - Shine
17. Muggsy Spanier and his Ragtime Band - I Wish I Could Shimmy Like My Sister Kate
18. Harry James and his Boogie-Woogie Trio - Boo-Woo
19. Gene Krupa and his Chicagoans - Blues Of Israel
20. Benny Goodman and his Orchestra - Life Goes To A Party
21. Teddy Wilson and his Orchestra - These Foolish Things
22. Billie Holiday and her Orchestra - A Sailboat In The Moonlight
23. Jazz At The Philharmonic - The Man I Love
24. First English Public Jam Session - Tea for Two
CD 3 - All What Jazz
01. King Oliver's Jazz Band - Riverside Blues
02. New Orleans Feetwarmers - Maple Leaf Rag
03. Sidney Bechet and his New Orleans Feetwarmers - Old Man Blues
04. Sidney Bechet and his New Orleans Feetwarmers - Nobody Knows The Way I Feel This Mornin'
05. Sidney Bechet and his New Orleans Feetwarmers - Blue Horizon
06. Louis Armstrong and his Hot Five - Savoy Blues
07. Johnny Dodds' Black Bottom Stompers - Wild Man Blues
08. Louis Armstrong and his Savoy Ballroom Five - Tight Like This
09. Louis Armstrong and his Orchestra - Dallas Blues
10. Louis Armstrong and his Orchestra - St. Louis Blues
11. Henry Allen and his Orchestra - Feelin' Drowsy
12. Henry Allen and his Orchestra - Patrol Wagon Blues
13. Luis Russell and his Orchestra - Feelin' The Spirit
14. Fats Waller and his Rhythm - Serenade To A Wealthy Widow
15. Fats Waller and his Rhythm - When Somebody Thinks You're Wonderful
16. Fats Waller and his Buddies - Ridin' But Walkin'
17. Eddie's Hot Shots - I'm Gonna Stomp Mr. Henry Lee
18. Jelly Roll Morton and his Orchestra - Deep Creek
19. Albert Ammons and his Rhythm Kings - Early Mornin' Blues
20. Duke Ellington and his Kentucky Club Orchestra - East St. Louis Toodle-oo
21. Duke Ellington and his Orchestra - Echoes Of The Jungle
22. Duke Ellington and his Orchestra - In A Jam
23. Duke Ellington and his Famous Orchestra - Jack The Bear
24. Johnny Hodges and his Orchestra - That's The Blues Old Man
CD 4 - Minority Interest
01. Earl Bostic and his Orchestra - Flamingo
02. Eddie Condon and his All Stars - How Come You Do Me Like You Do?
03. Jimmy Witherspoon - No Rollin' Blues
04. Duke Ellington and his Orchestra - Hello Little Girl
05. The Dave Brubeck Quartet - How High The Moon
06. Coleman Hawkins - Bird of Prey Blues
07. Duke Ellington and his Orchestra - Jeep's Blues
08. The Benny Goodman Orchestra - One O'Clock Jump
09. Louis Armstrong with the Russ Garcia Orchestra - You're the Top
10. The Art Tatum/Ben Webster Quartet - Have You Met Miss Jones?
2010 four CD collection. Poet, novelist, critic and librarian Philip Larkin (1922-1985), was a life-long Jazz lover. This anthology of his favourite records includes not only the Classic Jazz performances of such luminaries as Louis Armstrong, Bessie Smith, Billie Holiday, Eddie Condon, Benny Goodman, Duke Ellington and Count Basie, but also Larkin's "private" preferences for Earl Bostic, Coleman Hawkins, Dave Brubeck, Jimmy Witherspoon and Ben Webster. Released to tie in with Larkin25 a commemoration of the life and work of Philip Larkin, marking the 25th anniversary of his death.
Compatible con tu gestor de descargas:
http://pastebin.com/zEtiwzAG
Otros posts que te van a interesar:
Cargando comentarios espera un momento...
No tienes permisos para comentar.